{ % include 'shogun-products', content: product %}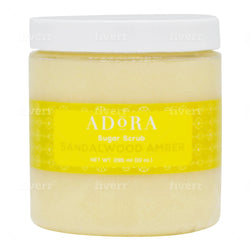 Adora
Sugar Body Scrub Sandalwood Amber
Indulge in this decadent sugar hand and body scrub that is perfect for exfoliation. This sugar scrub exfoliator softens the body and feet. It is enriched with skin-softening butters; Shea Butter and Coconut Oil
Features
Indulge in this decadent sugar hand and body scrub that is perfect for exfoliation.
This sugar scrub exfoliator softens the body and feet.
It is enriched with skin-softening butters; Shea Butter and Coconut Oil
🛁 EXFOLIATES ROUGH PATCHES- Reveal beautiful smooth skin with the exfoliating benefits of sugar
🛁 MOISTURIZES AND HYDRATES- Chock full of natural goodies such as Shea Butter and Coconut Oil
🛁 NOURISHES THE SKIN- Rich Butters and Rice Bran Oil add a buffer to soften the skin
🛁 NATURAL INGREDIENTS - Made with Superior Ingredients to provide a spa experience
🛁 HANDMADE WITH LOVE - We take special care with every sugar scrub we make. They are handmade with love in small batches to ensure its premium quality and freshness of our ingredients so you get the best bath experience with them. Our sugar scrubs are also proudly made in North Carolina, USA.